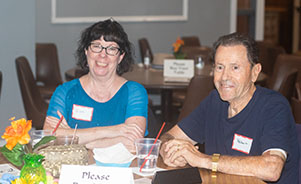 Bob & Vicki Palladino
In 1993, I joined the San Diego Swing Dance Club.  I didn't have a clue about what West Coast Swing was but I really enjoyed it.  I practiced a lot and started competing.  I won a lot and lost a lot of competitions, but promised myself that I would get better.
In 1994, Vicki joined me in marriage and in the pursuit to become better at West Coast Swing.  We were introduced to Skippy Blair, National Dance Director of the Golden State Dance Teacher's Association.  The list of the dancers working and learning their craft with Skippy was like coming face-to-face with the Who's Who of West Coast Swing.  Vicki and I were hooked. 
On August 31, 2001, Vicki and I completed the course of instruction that included workshops and classroom training taught by Skippy and the top dancers and teachers working with Skippy and obtained our Teacher's Certifications from the Golden State Dance Teacher's Association.  As we look back over the years, we've found that we love teaching more than competing. 
For me, the big take away from those years of instruction is to teach patterns that your students can do on the social dance floor, to give them the information that they need to execute and lead or follow those patterns and, more importantly, to make it fun.