West Coast Swing Music
Vicki Palladino
A Previous Music Supervisor's Perspective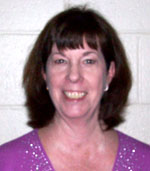 The San Diego Swing Dance Club recently conducted a music survey asking our members and guests to nominate their favorites songs. The results confirmed what we expected: our members and guests are a very eclectic group who like a variety of song genres and tempos for dancing West Coast Swing. The list of nominated songs included every imaginable genre including blues, pop, rock, soul, R&B, country, Motown, hip hop, rap among others. The tempo of the songs ranged from 80 bpm to over 130 bpm.
Since becoming Music Supervisor, I have attempted to incorporate the variety in song genre and tempo preferred by our members and guests by diversifying the Club's music library. My philosophy as a DJ is to play no two songs that sound alike during my sets. Each DJ has a different vibe and I feel that it is very beneficial to our Club and its members and guests to have more than one DJ playing the music so that there is not only a variety in song genre and tempo but also in nuances of the music. All of our Club DJs welcome requests for songs or for different dances from members and guests.
It has been the Club's practice for many years to ask its DJs to play slower tempo West Coast Swing songs for the first 15 minutes of the dance so that the beginning dancers who took the lesson that day will feel comfortable practicing. After that, as the Club's Music Supervisor, I recommend that the Club DJs play at least 50% traditional West Coast Swing songs (ie. Blues and R&B) and play a variety of genres for the remainder. The Club DJs will also play music for other dances, usually Cha Cha, Waltz, Night Club Two Step, County Two Step and the occasional Salsa or Balboa.
A comprehensive playlist of 190 favorite songs is available on Vicki's List. Here is a list of 10 favorite West Coast Swing songs (in alphabetical order):
Getaway Car by Darryl Hall and John Oates

Grenade by Bruno Mars

Hot in Herre by Nelly

Kansas City by The Johnnie Johnson Band

Layin' in the Alley by Big Joe and The Dynaflows

Lemonade by Big Joe and the Dynaflows

Peel Me a Grape by Diana Krall

Sex Bomb by Tom Jones

Sweet Home Chicago by Big Joe Maher

Wade in the Water by Eva Cassidy